By Shaunamay Martin Bohan
Emma Joy Collins, who began her journey as a stylist at the DCU fashion show in 2016 and eventually rose to the prestigious position of Style Chairperson, now finds herself in the heart of the Big Apple, a dream for any member of a style society. Emma's career boasts a remarkable CV, featuring stints at The Walt Disney and working with the legendary Sofia Coppola.
When I had the privilege of speaking with Emma over the call, her story was captivating. However, as I combed through her impressive resume, one thing stood out—a special recognition at the bottom, acknowledging her time and significance as the Chairperson of DCU STYLE.
STYLE
Just like many of us, Collins had reservations about diving into the style society scene. She can still remember the committee members of her first year to this day. But the tide of uncertainty shifted when she took on the role of a stylist- an unlikely feat for a freshman. This memory is something she holds dear, made even sweeter by the excited celebrations of her encouraging friends.
Her journey didn't stop there. It led her through the ranks to the esteemed position of head stylist, and eventually, the coveted role of chairperson. Among her cherished style society memories, you'll find glimpses of the simple joys: sipping on flat whites during fashion show rehearsals with the committee, decked out in bold patterns, thick eyeliner, and pops of pink, all while witnessing the culmination of their hard work.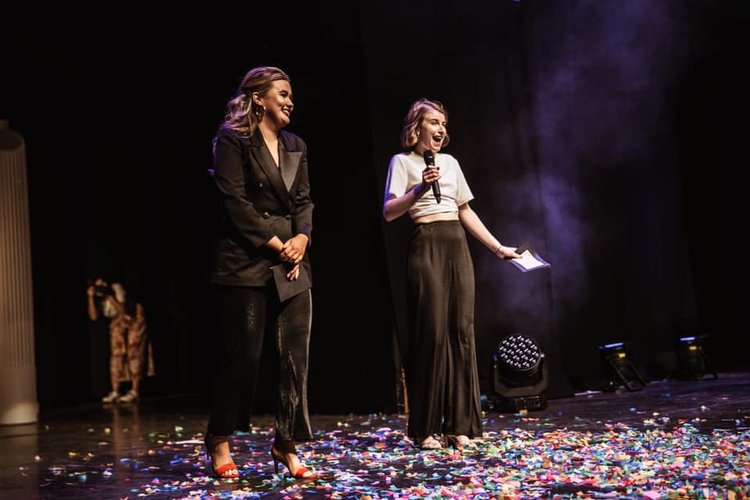 As the grand finale of the "Life Imitates Art" fashion show arrived, Collins radiated confidence, responding with quick wit to a heckler in the crowd. Her sharp retort triggered a wave of cheers from the over 800-strong audience, marking a extraordinary moment. It was one of the first sold-out shows in years, a testament to Collins' exceptional organizational skills and her undeniable prowess in curating a memorable event from the early days of her career.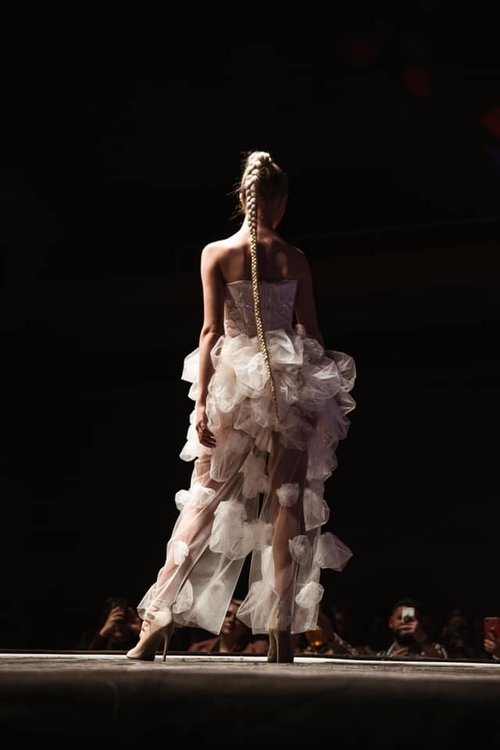 LIFE AFTER STYLE
After passing over her chairperson crown and graduating in 2019 Collins's resume filled up with a colourful range of projects. A podcast for Trinity. Working for the Dublin International Film Festival.Working on the Irish premiere of The Banshees of Inisheren. Collins's love for film was even extended during her role as Marketing and Publicity Consultant for The Walt Disney Company.
In my conversation with Collins, she showcased her remarkable resilience in the face of adversity by turning challenging times into a stepping stone for career ascension. While most of us were confined to our homes in lockdown, often lost in the TikTok whirlwind and grappling with the mysteries of Zoom, Collins embraced the global upheaval. She delved into the realm of freelance copywriting and extended her helping hand to local businesses, assisting with their social media needs. This style alum's journey serves as a vivid reminder that life's curveballs can indeed fuel our unwavering pursuit of personal growth.
Time and time again in our time together Collins brought up the importance of connection."It's all about who you know".She expressed that many of the great opportunities that came her way were a result of creating connections with people in the industry. Even the Style Society came in clutch when a photographer from the society helped her find her way in New York. However, she insists "Life isn't The Devil Wears Prada, you don't need to spend 50 dollars a week getting someone lattes to make connections in the industry" If you're feeling lost about the future Collins's advice is straightforward and comforting: Find someone in the role you're dreaming about whether that's on Instagram or Linkedin and ask them about their journey.
NEW YORK.
When asked, why she moved to New York Collin's spontaneous attitude shone through with a charming "Why Not?".The fast-paced cultural Big Apple certainly seems like the perfect home for this style of alumni. If you were fortunate to join Collins for a day in bustling New York amid her packed schedule, she'd introduce you to the charm of a stroll through Carroll Gardens, a dirty vodka martini at Dante's, and a visit to 7th Street Burger.Despite being so far from home Collins's observant eye notices motifs of the Irish all around her: A girl holding a Celtic cross on the subway, a Mayo jersey in a crowd of people, a subway passenger reading about the Troubles.
WORK IN NEW YORK
In her current role in New York, Collins is a key player at the creative agency, Articulate. Here, she's living the dream that would make any style or movie enthusiast envious. Collaborating with the esteemed director and artist, Sofia Coppola. Keen-eyed viewers of "Lost in Translation" might spot the brand of whisky that Bill Murray's character enjoys throughout the film – House of Suntory. This collaboration was in honor of Suntory's centennial celebration and resulted in the creation of a Suntory Anniversary Tribute, featuring the iconic Actor Keanu Reeves, further solidifying Collins's place in the industry. She speaks of Coppola with admiration, describing her as cool, composed, and impeccably dressed.
Creative Process
Collins draws her wellspring of creative inspiration from a rich tapestry of experiences and interests. Her passion for films and the written word has a major impact (Collins even has a substack where she manifests this passion). But she also finds creativity in life's simple pleasures, such as going for a run and letting her thoughts flow freely or taking a refreshing shower. The dynamics of the community are equally significant; she thrives on hanging out with friends, exploring their interests, and gaining new perspectives. It's this blend of personal passions and shared moments that shape her unique approach to creativity and has led to her iconic array of projects.
WHAT WE CAN LEARN FROM COLLINS
Collins's journey from chairperson to cosmopolitan is full of takeaways for anyone who wants to grow professionally or personally. Life is about connection, reach out to others , often they are willing to help, find inspiration in your friends, and network with people in your desired industry.
When faced with adversity, get creative. Be confident in the face of hecklers, Be bold with your fashion choices, follow your heart, and move to your dream city just because you can. Finally, the most important piece of knowledge Collins expressed in our time together was the advice she would tell her college self
"Give everything a chance, Push it more,Be Weirder"
Collins's success serves as a testament to the invaluable experience that the style society offers, and we are privileged to count her among our distinguished alumni, a true embodiment of the essence of our society.
Links to Emma Joy Collins work:

Website :https://www.emmajoycollins.com/
LinkedIn :https://www.linkedin.com/in/emma-collins-690159156/
Substack :https://ecphonehome.substack.com/subscribe
House of Suntory :https://www.youtube.com/watch?v=DlzqmIWWEfI